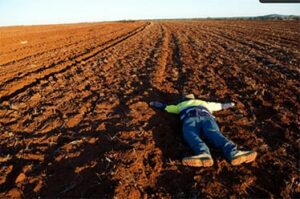 Queensland University of Technology and the Commonwealth Scientific and Industrial Research Organisation (CSIRO), Australia's national science agency, have announced their next international unmanned aircraft challenge, UAV Challenge Medical Express 2016.
The previous UAV Challenge, held in 2014, tasked entrants with designing and creating an UAV that could deliver an emergency package to a hiker lost in the outback.
Announcing UAV Challenge Medical Express 2016 at an unmanned systems conference associated with the Avalon Airshow, event co-ordinator Dennis Frousheger said the 2016 challenge was designed to push UAV technology to the limit.
"It's unlikely that traditional fixed-wing unmanned aircraft or small multi-rotor vehicles will be capable of meeting this challenge – new hybrid flying robots will probably be required," said Mr Frousheger, an engineer in CSIRO's Digital Productivity Flagship.
"This time, our hapless bushwalker is stuck in a clearing in the Australian Outback, surrounded by floodwaters, and his doctors have requested an urgent blood sample be sent to them. He's found his way to a clearing and has emailed his GPS coordinates."
"Joe's located in an area surrounded by obstacles so teams will need to develop systems capable of understanding the landing site, and plan and execute a landing – all of this at a distance of at least 10kms from their location."
To complete the mission, teams will need to deploy an aircraft from a small town outside the flooded area and have it fly autonomously for at least 10km to find Outback Joe. The robot aircraft must locate Joe and automatically land nearby. After Joe places his blood sample into the aircraft, it must take off and fly quickly back to the town.
UAV Challenge co-founder Professor Jonathan Roberts, a QUT robotics expert with the Australian Research Centre for Aerospace Automation, is not expecting a winner in the first year of the new competition – but is happy to be proven wrong.
"It took eight years to save Joe in our Outback Rescue competition – that's with more than 2,000 people from 350 teams working on the problem and sharing their knowledge," Professor Roberts said. "We're expecting many of those teams to take up the medical express challenge, along with others keen to push the envelope for UAV capabilities. The prize for saving Joe will again be AU$50,000."
The competition will take place in September 2016 in Outback Queensland, Australia.