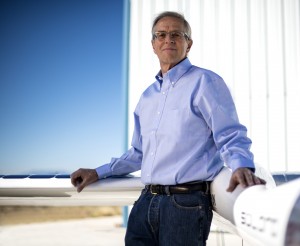 Titan Aerospace, a producer of solar-powered "atmospheric satellites" (atmosats), today announced that Vern Raburn has joined the company as Chairman and CEO. An accomplished high technology and aerospace leader, Raburn will bring to Titan an invaluable blend of real-world experience in business development, technology innovation and market creation.
"A conflux of advanced technologies are finally enabling a dream that a lot of people have chased over the past three decades – the vision of an atmospheric satellite – to become a practical reality," said Vern Raburn. "By delivering the value of a space satellite at a staggeringly low cost, Titan is poised to re-imagine and expand the satellite industry. I look forward to collaborating with my new colleagues at Titan to grow this important market."
Founded in 2012, Titan designs and manufactures atmosats – a new type of unmanned aerial vehicle (UAV) that does the work of near-earth satellites at a fraction of the cost. Payloads could include equipment that provide real-time high-resolution images of the earth, voice and data services, navigation and mapping services and atmospheric-based monitoring systems. In August, Titan unveiled its first atmosat platform, SOLARA. Unlike traditional satellites, SOLARA is far less expensive to buy and fly, and it can easily be brought back for maintenance or payload upgrades. In contrast to other high-altitude UAVs, Titan's solar-powered atmosats offer much longer endurance, staying aloft for one to five years, depending on the payload. Titan intends to leverage these breakthrough capabilities to unlock new applications that put commercial satellite services within reach of dozens of industries.
"Vern's passion for our mission is infectious and his leadership experience will be instrumental in helping us realize the tremendous market opportunity ahead for Titan," said Max Yaney, founder and CTO of Titan Aerospace. "We're looking forward to working with Vern to bring our entrepreneurial vision to market."
Prior to joining Titan, Raburn was most recently founder and CEO of Eclipse Aviation, creator of the very light jet (VLJ) market and manufacturer of the Eclipse 500 jet. In his quest to change the way people traveled, Raburn led the Eclipse team to a number of notable achievements including pioneering the use of friction stir welding in aircraft structures and developing the PhostrEx fire suppression agent to replace the greenhouse gas Halon in aviation applications. In 2005, Eclipse Aviation was honored with the Robert J. Collier Trophy for leadership, innovation and the advancement of general aviation.
Earlier in his career, Raburn spent more than 25 years as a senior executive helping to shape the course of the high technology industry. He was among the first Microsoft employees and, as the president of Microsoft's Consumer Products Division, was responsible for the company's entry into the retail channel. Following his tenure at Microsoft, Raburn served as executive VP and general manager of Lotus Development Corporation, where he played an integral role in the successful launch of Lotus 1-2-3. He has also served as chairman and CEO of Symantec Corporation and Slate Corporation. Raburn also worked as president of the Paul Allen Group, overseeing high technology investments for Microsoft co-founder Paul Allen.
"Whether I was working at the inception of the PC industry, the packaged software business or the VLJ marketplace, it has been my personal mission to push the boundaries of technological innovation to redefine markets and make the impossible possible," said Raburn. "At Titan I have found a home with like-minded colleagues that understand that change is not only possible, it's inevitable. I'm thrilled to join this stellar team and eager to get going on this next challenge as we bring new value to the satellite landscape."
Titan is a privately held venture with manufacturing facilities in New Mexico. The company is funded through staged equity financing from experienced venture capitalists, aviation investors and successful entrepreneurs. Titan's Series A and A-1 rounds of financing have closed and its Series B financing round will open soon.