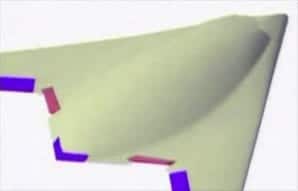 The Chief of India's Defence Research & Development Organisation (DRDO) Vijay Saraswat has revealed pictures of the Indian Unmanned Strike Air Vehicle (IUSAV), codenamed Aura, an advanced unmanned stealth bomber that resembles classified experimental Cold War aircraft rather than anything India has ever been known to attempt.
IUSAV is being developed for a simple mission profile: Take off under remote control by a ground crew, enter enemy airspace undetected and virtually invisible to enemy radars, deploy strike weapons against designated targets and return to base.
In one official document, the Aura is described as an 'unmanned self-defending reconnaissance aircraft', indicating that it will also serve as a spy platform capable of evading missiles if fired upon. DRDO aims to deliver the highly complex stealth bomber to the Indian Air Force (IAF) in seven to eight years.
The secret Aura programme currently functions on a Rs 100-crore start-up budget for the design and definition phase. A top officer associated with the programme indicates that the Aeronautical Development Agency (ADA)-a consortium of agencies including drdo labs and Hindustan Aeronautics Ltd-was hoping to complete a major chunk of the complex project for just under a billion dollars. DRDO has its most complex and daunting aerospace challenge at hand, considering that the specific technologies that would make the IUSAV useful are areas that India has little or no expertise in. These include flying wing aerodynamics, RADAR absorbent paint and structural materials, remotely deployable smart weapons for surgical strikes, and most importantly, the intricate and unassailable communications and data-link architecture required to control an aircraft with a lethal payload from hundreds of miles away.
If the Indian aerospace establishment's recent track record with indigenous aircraft is any indication, IUSAV appears to be an audacious pipe dream. DRDO's own defence to such a claim is that unmanned combat drones comprise secret propriety technology that no country will ever share with India. And while that's true, France, Sweden and the UK have all started discussions with DRDO in an attempt to push their technologies into the Aura programme.
Indeed, IAF, which will be the primary operator of IUSAV, has conveyed in no uncertain terms that it wants a platform with as little foreign assistance as possible, and strictly no foreign help in any of the critical design areas and sub-systems. This stricture springs from the force's reasonable fear that foreign governments or contractors could withhold critical after-sales help during a conflict or war. In March, Defence Minister A.K. Antony informed Parliament that a modified version of India's troubled, unfinished Kaveri jet engine could power iusav. Several academic institutes, including IIT-Kanpur, have also been roped in for specific areas of critical research for use in IUSAV.
DRDO is working on other totally new areas that include serpentine jet intakes critical to stealth performance and cool exhausts to suppress the platform's infrared give-away, enclosed weapons bays and conformal sensors and antennae that will perform their crucial functions without compromising on the low observability.
If everything goes as planned, an off-limits section of ada in Bangalore, headed by senior aeronautical scientist Biju Uthup, hopes to begin testing a prototype of IUSAV by 2016. As things stand, IUSAV is only the latest in a healthy list of similar 'flying wing' stealth drones being developed across the world.
Source: MSN