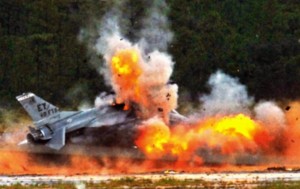 Boeing is scheduled to deliver six QF-16 target drones to the US Air Force before the end of the year, a senior company official says.
"We will be delivering six aircraft by the end of this year," says Torbjorn Sjogren, vice president of Boeing's global maintenance and upgrades business. "We have hadfirst flight. We have tested various aspects of the unmanned capability, but we're still in the pre-EMD [pre-Engineering Manufacturing Development] phase."
Though designed to be flown with or without a pilot, the QF-16's first flight was flown on 4 May with a human inside the cockpit. The USAF requires that the jets retain an optional manning capability.
Boeing is modifying the retired Lockheed Martin-built F-16s into target drones as part of an initial $72 million pre-Engineering Manufacturing Development (EMD) contract that it received this March. The aircraft are all single-seat models from Blocks 15, 25 and 30.
The modification work is being performed at Cecil Field, a former US naval air station, near Jacksonville, Florida. But, Sjogren says, engineering support is being drawn from all over Boeing-though mostly from the company's primary defence facility in Saint Louis, Missouri.
The QF-16 will have to replicate fourth-generation threats like the Russian-built Mikoyan MiG-29 Fulcrum series or Sukhoi Su-27 Flanker series fighters. But while the aircraft may receive additional features to simulate those threats, the USAF has not yet defined what added capabilities it wants. "There are capabilities that could be added," Sjogren says. "Right now, the principle deliverables we've got are to provide an aircraft that is an F-16 converted to manned or unmanned."
The aircraft also have to have flight termination and visual augmentation systems. They also have to be compatible with the existing drone control systems.
The next major milestone for the programme falls in August with a systems verification review. That will be followed in September by the start of EMD. That contract will probably be worth about $17 million and run for about 15 months. For EMD at Tyndall AFB, Florida, and at White Sands, New Mexico, the USAF will have six jets available for testing.
Low rate production is expected to start in the beginning of 2014 with an initial batch of 20 jets. Full-rate production should start in mid-2015 with four lots of 25 jets each.
One of the challenges faced by Boeing-which is not the original manufacturer-was that the company lacked many of the engineering drawings and technical data normally needed to perform such a modification, Sjogren says. Boeing's solution to the problem was reverse engineering. "We've used both conventional and some more sophisticated types of reverse engineering in order to do this," he says.
The more sophisticated reverse engineering processes utilized X-ray backscatter non-line-of-sight technology. Without those methods, Boeing would not have been successful in modifying the F-16, Sjogren says.
Because the F-16s being modified are old retired airframes, often time-expired examples, Boeing had to make structural modifications to ensure the jets are once again safe for a human pilot.
The experience in studying and modifying the F-16 has given Boeing confidence that it could independently upgrade and overhaul the aircraft for customers around the world. "The installed base around the world is obviously fairly significant," Sjodgren says. "Our efforts with regard to the QF-16 obviously position us with actual experience on dealing with these old aircraft in many cases, as well as different Blocks."
Boeing has held preliminary talk with a number of potential customers about competing to modify their F-16 fleets, Sjodgren says. But the discussions are extremely preliminary.
Officials from Lockheed Martin-the original equipment manufacturer–could not comment by press time.
Source: Flight Global