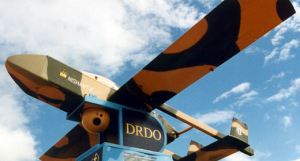 The Indian defence ministry today announced that a total of 95 mini Unmanned Aerial Vehicles (UAVs) will be purchased in the near future, to improve the aerial surveillance capabilities of the Indian Air Force (IAF) and the Indian Navy (IN). Sources close to the ministry said that the process for the procurement has already started, and that the bidding process is likely to be initiated by the beginning of next year.
So far the defence ministry has not revealed whether they will give preference to the local defence manufacturers during the procurement process. If local equipment manufacturers are not given the priority, then the Israeli UAVs, like the IAI Heron (Machatz-1) and the IAI Searcher are likely to be the strongest contenders to win the bid. The Heron drones are currently operated by the Armed Forces in a number of nations, including Brazil, Canada, France, Turkey, and the United States. The IAI Searcher is also used by nations such as Russia and Thailand.
The Indian officials said that they intend to procure 60 UAVs for the IAF, while the remaining 35 units are meant for use by the IN. The defence ministry have already placed certain conditions for the future UAV deal, insisting that the weight of the UAV should not be more than 5.50 lb and the entire set, including the operational kit should not weigh more than 33 lb.
The Indians hinted that they want the UAVs to be light-weight, so that a single soldier will be able to operate them. The current version of the IAI Heron weighs more than 550 lb, and it is not clear whether the Israel Aerospace Industries (IAI) will consider manufacturing a miniature version for export to India.
Source: Indian Defence