Author: David Axe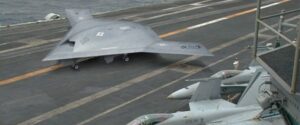 The U.S. Navy's nuclear-powered aircraft carriers flight decks are some of the most chaotic and deadly real estate in the world. Teeming with scores of high-performance aircraft, wheeled vehicles and up to a thousand sailors generating up to several hundred sorties per day, flight decks "are fraught with danger," the Naval Safety Center warned in a 2003 publication. "You can get blown down by prop wash, blown over-board by jet exhaust, run over by taxiing aircraft or sucked up and spit out by a turning engine."
Soon the Navy may have a new danger to add to the list. The sailing branch plans to add robotic jet-powered warplanes to the carrier-deck mix starting next year. The Unmanned Combat Air System Demonstrator program, or UCAS-D, is scheduled to launch a seven-ton Northrop Grumman X-47B drone from the carrier USS Eisenhower sometime in 2013.
The approximately $1-billion UCAS-D effort should lay the groundwork for the follow-on Unmanned Carrier-Launched Airborne Surveillance and Strike initiative, or UCLASS, which aims to add armed Unmanned Aerial Vehicles to all 11 of the Navy's carriers no later than 2020. The UCLASS drones would boast greater range and endurance — and a lower unit cost — than existing manned fighters. Northrop, Boeing, Lockheed Martin and General Atomics are all competing for the UCLASS contract.
But blending people, vehicles, manned planes and robots on the tightly packed 4.5 acres of a carrier deck requires new techniques, technologies and new ways of thinking. Men and machines will need to know when to work together, when to ask each other for help and when to just give each other some space. "It's manned-unmanned operations on the carrier that is the big shift," Capt. Jaime Engdahl, the Navy's UCAS-D program manager, told AOL Defense in an interview.
And the clock is ticking. The UCAS-D test flights from the Eisenhower might make do with makeshift deck-handling methods, but full integration of robot warplanes onto carriers demands almost foolproof systems that aren't yet ready. In laboratories across the U.S., technology developers are racing to design the so-called "human-machine interfaces" that will mediate between sailors and their robotic shipmates. Related interfaces are seeing early tests in some surprising places — including U.S. highways.