By Jim Powell, Global Changes & Opportunities Report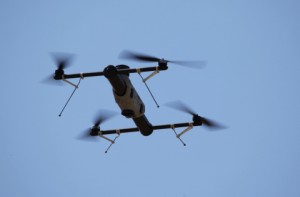 Commercial drones — or unmanned aerial vehicles — will, no doubt, soon become very popular. In addition to being useful, they can be made inexpensively and can save companies a lot of money. Robots are also making big advances in the commercial market.
These new industries have excellent potential. Here are two favorite ways to play these long-term, high-tech trends.
In February a new federal law was passed that requires the Federal Aviation Administration to draft rules that will allow drones to be used in commercial applications. The new law also calls for drones to be used much more widely in law enforcement.
Although privacy issues are a concern, the courts have generally decided that anyone outside the home and in the open is fair game, just as they would be if tracked by a police helicopter.
I recently inspected a drone that carries an infrared monitor along high-tension power lines to detect hotspots. The drone replaces two men plus a helicopter that costs over $1,000 an hour to operate.
Commercial interests are not losing any time getting into the rapidly expanding drone business. In anticipation of the new industry, Boeing (BA -0.07%) engineers and MIT students teamed up to create an iPhone app for controlling drones from up to 3,000 miles away.
In terms of commercial robots, several vehicles developed for the military are being adapted to work in factories, refineries, hospitals, offices, schools, and homes.
I think commercial robots will have a huge impact on our lives. I think personal robots will become as common as smart phones are today. We will wonder how we ever got along without them.
In the commercial drone market, I think a big winner will be Aerovironment (AVAV -1.12%). Although it must be considered a speculation, I think the long-term outlook for the company is very good.
In my opinion, at its current price, the risk versus the potential reward this stock offers makes it attractive.
iRobot (IRBT +0.79%) is already in the commercial market with its popular Roomba floor-vacuuming robot and the Scooba floor scrubber. The company also makes several "warbots" for the military that is fully committed to using them to support soldiers in combat.
Longer term, the company believes the commercial market will be much larger than its military business.
As a result, iRobot recently shifted its emphasis to developing robotic systems for industrial and healthcare applications.
In March iRobot announced a partnership with Texas Instruments (TXN -0.61%) to develop a new generation of "intelligent" robotic technologies.
One priority is "distance robotics" that will allow people located anywhere in the world to perform tasks at home or in the office. With high-quality audio and video, you will feel as if you are really there. It's coming — and fairly quickly.
Investors were not pleased that iRobot is shifting its focus from military contracts to the commercial market, and the stock has plunged recently.
The company's most recent profits also declined, as usually happens when a business is changing directions. However, I think the company's decision was smart and its future is even brighter than it was previously.
Wrap-up: If you are looking for one or two stocks that are more exciting than our tried and true blue chips, I think you should consider AeroVironment and iRobot. Think of them as adding seasoning to a fine meal. Use a little, not a lot.