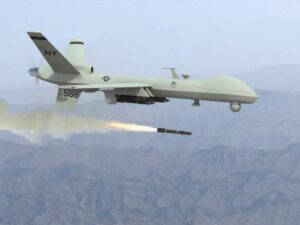 ARMED unmanned aerial vehicles remain an option for the Australian Defence Force arsenal but are not an immediate priority, vice-chief Mark Binskin told a Senate estimates hearing yesterday.
Under questioning by the Greens spokesman on defence, Senator Scott Ludlam, Air Marshal Binskin said the initial UAV fleet would not be armed and would be used for intelligence and surveillance gathering only.
The ADF operates drones ranging in size from the small Scan Eagle and Shadow UAVs to the Heron, a medium-altitude long-range pilotless aircraft.
All are deployed in Afghanistan at present.
Asked whether there were plans to acquire an armed UAV capability, Air Marshal Binskin said that there were no immediate requirements, but the capability remained "an option for a future force".
It is understood the Coalition is interested in examining the benefits of acquiring an armed missile-carrying UAV such as the Predator.
The state of repair of the Royal Australian Navy's ageing fleet of surface replenishment and amphibious ships came under close scrutiny from opposition defence spokesman David Johnston.
Former amphibious ships HMAS Manoora and Kanimbla are now tied up in dock and awaiting disposal.
The 6000-tonne heavy lift ship HMAS Tobruk, unavailable to assist in last year's Cyclone Yasi clean-up because it was unseaworthy, has since undergone a $20 million refit, said navy chief Vice Admiral Ray Griggs. The ship will be retired in 2014.
"My confidence in her is slowly returning," Admiral Griggs said.
The 25,00-tonne replenishment ship HMAS Sirius will return to seagoing operations in July after maintenance is completed in Western Australia.
Its sister ship, HMAS Success, described by Admiral Griggs as "old and fragile", is expected to put to sea again in June after 16 months of repairs costing $86m, including a drive-shaft realignment that cost $6m.
Admiral Griggs said the ship had now reached the end of its design life.
Source: The Australian