Event Details
10-12 April 2018
RAI Amsterdam, Postbus 77777, Amsterdam, , NL 1070 MS, Netherlands
Visit Website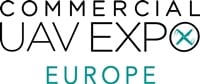 About the Event
Commercial UAV Expo Europe, presented by Commercial UAV News,  is a conference and exhibition focusing on commercial UAV integration and operation for large enterprise, industrial users.
The event covers industries including: Civil Infrastructure, Construction, Energy, Surveying & Mapping, Aggregates & Mining, Law Enforcement, Emergency Response and Search & Rescue (SAR). Topics include: risk management, systems selection and integration and ROI.
The 2018 European event will again feature a conference program with vertical market tracks in which industry experts share best practices, case studies and challenges. Keynotes and plenary sessions will focus on universal themes including systems selection, workflow integration, legal considerations, regulatory issues, harmonization of standards and more.  Global technology innovators representing growth segments for drone use will gain critical insights from fellow users as well as hear from drone experts about the road ahead for UAV/UAS integration in Europe.
The Exhibition includes drone airframe manufacturers, component suppliers, software developers and service providers, allowing you to meet with numerous companies and find the solution that's right for you.
Register your attendance today >
Location Map
Visit Website