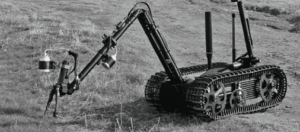 SRI International delivers field-proven, easy-to-use products for persistent surveillance and situational awareness. Capabilities include onboard, real-time electronic image stabilization (EIS), H.264 video compression, and wireless video transmission.
These solutions offer complete awareness and total security for SWaP-constrained applications such as unmanned aircraft systems (UAS), unmanned ground vehicles (UGV), and robotic systems.
DL Micro™ Digital Data Link and Video Processor

The DL Micro™ digital data link and video processor delivers actionable video from unmanned air and ground vehicles.
This OEM module uniquely combines H.264 encoding and an IP-based digital data link with the fundamental benefits of image stabilization – essential for video capture on moving vehicles to ensure operators can correctly interpret images. Without stabilization, critical information can become ambiguous or compromised, and data compression is often compromised.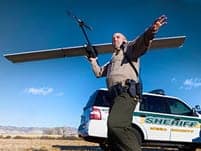 The DL Micro digital link uses advanced image processing to maximize image quality for better compression. Weighing only 46 grams, the module is also incredibly light, compact, and power efficient, making it ideal for size, weight, and power (SWaP) constrained applications.
Acadia® ILS-5000-SD™ Video Stabilization Module for Analog OEM Cameras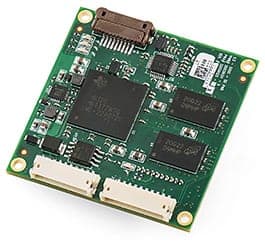 The Acadia ILS-5000-SD™ is a compact, powerful video stabilization interface board specifically designed for analog OEM camera modules, such as Sony FCB-EX and FBB-EX-E standard definition block cameras.
This embedded video stabilizer improves video clarity by counteracting the effects of camera shake and vibration typically experienced in law enforcement, surveillance, border protection, robotics, and unmanned vehicles. The powerful video stabilization technology corrects for unwanted vertical, horizontal, and rotational motion across a wide range of shake frequencies, improving overall system performance.
Designed for easy integration, The Acadia ILS-5000-SD video stabilizer supports standard analog interfaces, as well as Sony's VISCA® camera control protocol, providing a seamless interface for both video and stabilization control. The module matches the profile of Sony block cameras, providing simple integration into new and existing systems.
Acadia® ILS-5000-SD™ Video Stabilization Demo
Acadia® ILS-6500™ Video Stabilizer and Encoder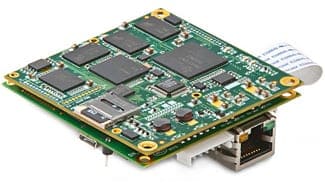 Surveillance cameras mounted to poles, vehicles, and unmanned systems are susceptible to shake. The Acadia® ILS-6500™ video stabilizer combines real-time electronic image stabilization with H.264 encoding for improved distribution of quality video.
This video stabilizer compares sequential frames of video and shifts each frame to provide a highly stable output, making it easier to interpret threats, recognize friendlies, and read important identifiers such as license plates. The ILS-6500 video stabilization process also increases encoder efficiency by reducing required bandwidth.
Weighing only 38 grams, the video stabilizer/encoder module is incredibly light, compact, and power efficient. This small form factor is ideal for size, weight, and power (SWaP) constrained applications.