Orbital UAVE is the global leader in heavy fuel Small UAV propulsion systems, delivering class leading endurance, reliability and power-to-weight advantages. Orbital UAVE operates the world's best Small UAV engine development, testing and manufacturing centre headquartered in Perth, Western Australia.
Orbital's 35 year history of innovation in a wide range of engine technologies is now focused within Orbital UAVE and in particular, designing, developing, and manufacturing the world's best engines and propulsion systems for Unmanned Aerial Vehicles ("UAV").
Engineering and Testing Services
Orbital's design experience ranges from the application of fuel injection systems, development of small engine non-automotive 2-stroke and 4-stroke applications, through to multi-cylinder head and engine design to automotive specification. This breadth of experience and Orbital's significant database of engine designs and engine performance characteristics places Orbital in a strong position to assist OEMs to meet the ever changing legislative and market requirements. Engines for a number of industry leading UAV customers have been developed at our technical centre in Perth, Western Australia. This facility offers a full complement of engineering design, prototype, validation and production capabilities to take your engine from concept to product.
Design engineering capabilities include:
Clean sheet engine design based on application package and performance requirements
Design and system Failure Mode Effects Analysis (FMEA)
Finite Element Analysis (FEA) of engine and sub-systems to improve reliability and reduce weight
Optimization of all existing gasoline engines for improved reliability, fuel consumption and performance.
Implementation of electronic fuel injection (EFI) systems; both conventional port or direct injection technologies
Orbital's engine facilities can be utilized to assess engine performance, fuel consumption, vibration and durability under a range of operating conditions, including environmental. We have the capability to run engines in aero configuration, including:
Aero-Engine propeller test stands (including durability cycles such as FAR33)
Simulated altitude testing (including control of both ambient air temperature and intake / exhaust pressure conditions)
Semi-anechoic NVH chamber (for comparative noise measurements)
On-site stock of aviation and NATO fuels
These development facilities are now also available through the engineering consultancy to other UAV developers working on developing, calibrating and validating their own products. We can also provide on-site propulsion engineering support for your lab and flight testing programs.
Electro-Mechanical Systems
Orbital has extensive experience in designing embedded hardware such as Engine Control Modules (ECM) for development and production, as well as data acquisition and peripheral devices. This experience provides a comprehensive foundation for other embedded hardware designs. To compliment these in-house services Orbital has established relationships with manufacturers to provide production volume, quality, cost competitive products.

The FlexECU™ platform has been developed by Orbital to provide powerful, high quality engine controllers to meet the varying requirements of today's engine applications. The FlexECU™ platform is built upon over 15 years of production ECU hardware and software experience in demanding markets including automotive, marine, 2 wheelers, recreational off-road vehicles and UAVs. FlexECU™ delivers cost effective customized ECU and control system solutions for your specialized application.
The FlexECU™ Platinum (Pt) has been specifically developed as a UAV customized addition to Orbital's FlexECU™ family. This compact and light weight unit is field proven on UAV applications, delivering on all UAV specific requirements with the ruggedness and reliability of a high volume automotive production ECU. The FlexECU™ Pt interfaces with common UAV flight management system architectures and includes support for fly-by-wire through servo motor throttle control. The FlexECU™ Pt is suited to fuel injected single-cylinder or two-cylinder boxer engine applications. Our ability to develop electronic control solutions for your application is not constrained by our current product portfolio, so if you have a powertrain control problem let Orbital take a look at it.
UAV Engines and Propulsion Systems – 3 to 250+hp

Whether you are upgrading or improving an existing engine's performance and reliability, or need a bespoke engine powered by Orbital's FlexDI™ heavy fuel UAV technology, we can support your program.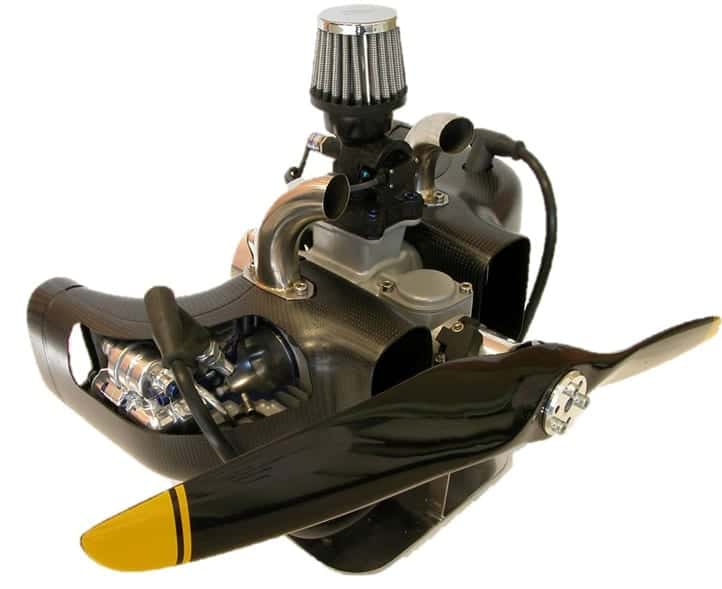 Orbital has in-house capability and quality systems processes to manufacture and supply production hardware and/or engines direct to UAS airframe customers.
FlexDI™ – Spark Ignition Technology for Heavy Fuel UAV Engines

FlexDI™ is proven direct fuel injection technology able to offer an advanced Spark Ignition solution for heavy fuel engines including JP5, JP8 and JetA1. FlexDI™ is also able to be used for spark ignited Diesel applications. Key benefits of Orbital's FlexDI™ heavy fuel UAV technology:
Multi-fuel capability with same hardware: gasoline, JP5, JP8, Jet A
Cold start capability down to -35ºC without the use of heaters
~30% reduction in fuel consumption at cruise conditions because DI enables lean stratified operation – typical brake specific fuel consumption at cruise of 330g/kWh (0.543lb/hph)
Lower fuel consumption that 2-stroke carburetted/EFI or gas turbine engines
Lower vibration signature and lower weight than compression ignition (diesel) solutions.
More: FlexDI™