FLIR Systems is the world leader in the design and manufacture of infrared imaging solutions for small unmanned systems. With FLIR Quark and FLIR Tau 2, we supply more thermal imagers for unmanned platforms than any other company in the world.
Flir Quark Uncooled Camera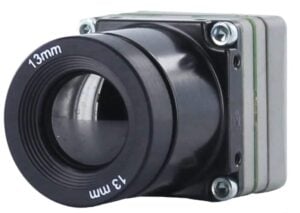 FLIR Quark is the smallest and lightest fully-integrated uncooled camera in existence. It's designed for thermal imaging applications that require minimum volume and weight, yet Quark is rated for extreme shock and operating temperature environments.
Several lens options are available for Quark. Key features include 17-micron VOx FPA pixels for superior image detail, 640 x 512 or 336 x 256 resolution options, ultra-small volume and mass, and an industry-leading shock rating.
More information: FLIR Quark