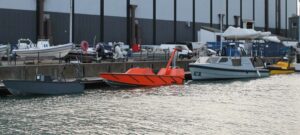 Autonomous Surface Vehicles Ltd (ASV) is a designer, manufacturer and operator of high-performance, rugged autonomous marine vehicle systems for military, government and commercial sectors.
ASV's unmanned marine vehicle systems are used for a wide range of military and commercial applications. For military these include Mine Counter Measures (MCM), Intelligence, Surveillance and Reconnaissance (ISR), Anti-Submarine Warfare (ASW), and Fast Inshore Attack Craft (FIAC) for combat training. For commercial these include, Oil and Gas Exploration and Construction, Oceanographic Data Collection, Hydrographic, Oceanographic and Environmental Surveys.
ASV also provides a broad range of technical services relating to autonomous marine vehicles, from concept design through to production and training. The company has a full complement of highly experienced staff as well as links with leading universities and manufacturing facilities.
C-ENDURO USV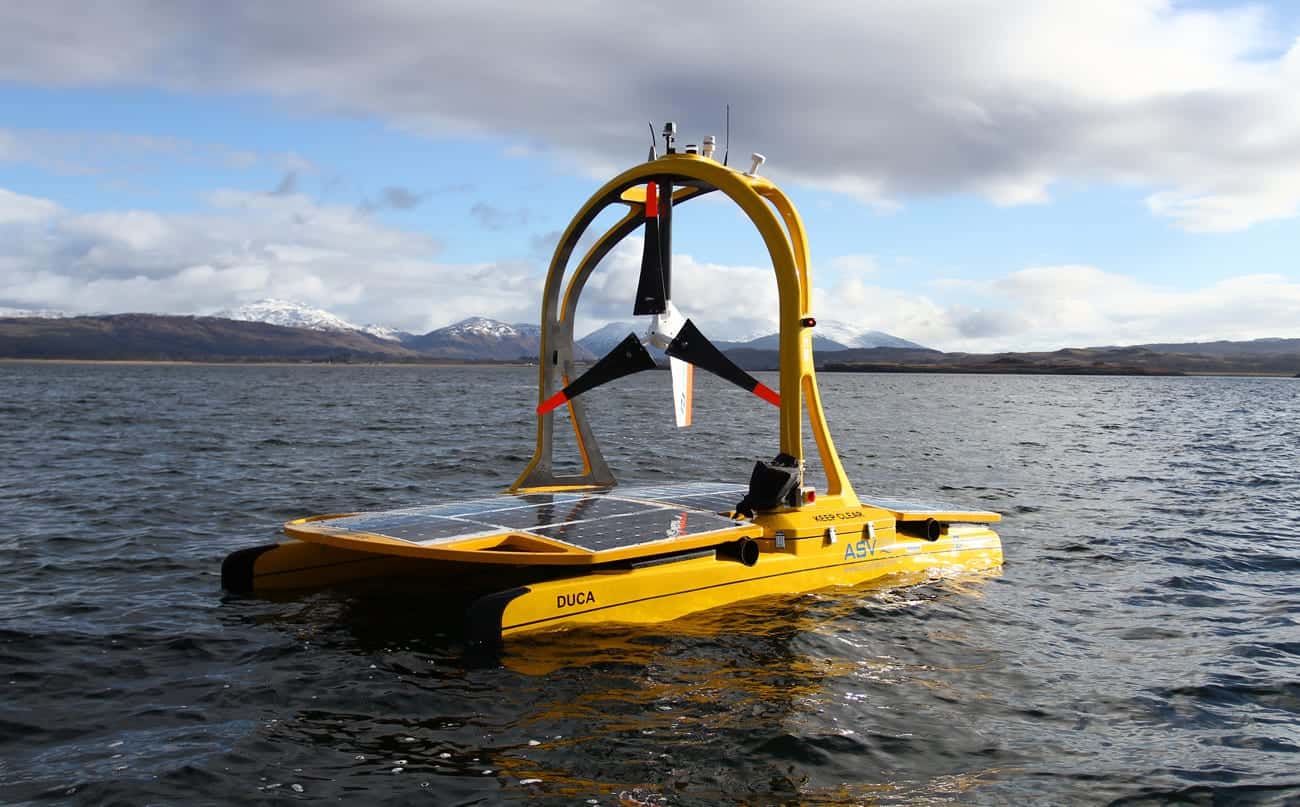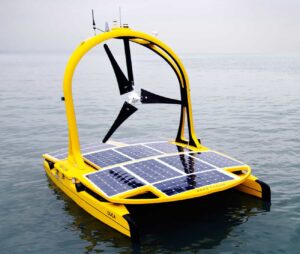 The C-Enduro is a Long Endurance Maritime Unmanned Surface Vehicle, ideal for any application where long-term remote data collection is required. Capable of enduring missions of up to 3 months in length, the vehicle's power system can be tailored to suit different climatic conditions by using
The hull features a rugged carbon-fibre construction with a self-righting design. A wide range of sensors can be fitted to the C-Enduro, including sonar, Electronic Warfare, wave measurement, and cameras. diesel or methanol power chain, and/or harvesting energy using wind turbines and solar panels.
This advanced USV can serve a multitude of roles, from security to oceanographic data collection to environmental monitoring.
More: C-Enduro Unmanned Surface Vehicle
C-Worker USV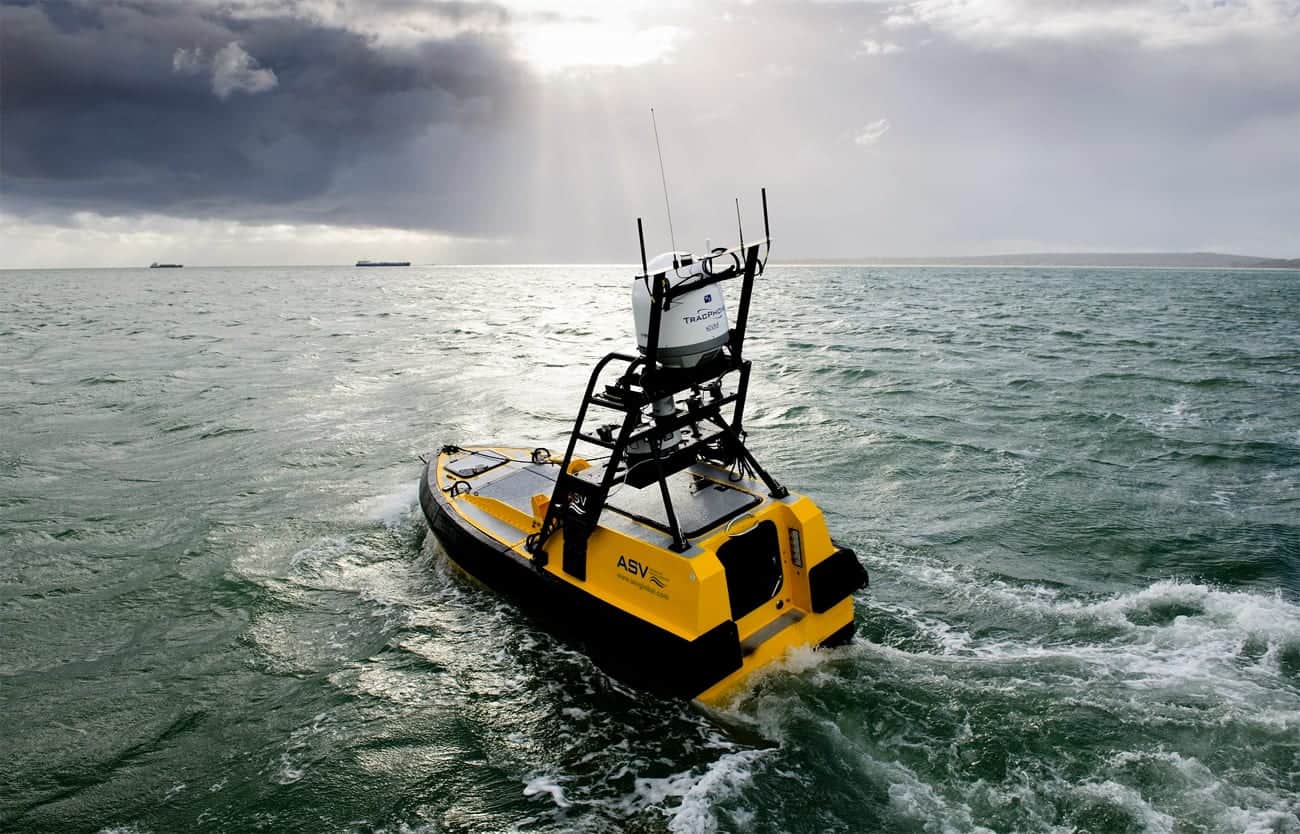 C-Worker is a robust multi-role offshore Unmanned Surface Vehicle designed for oil and gas operations in demanding ocean environments. It can conduct positioning, surveying and environmental monitoring operations, all without the need for a ship base station or seabed anchoring.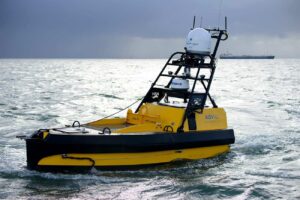 With a rugged aluminium self-righting hull, C-Worker can undertake missions up to 30 days in length at an average speed of 4 knots. The design of the vehicle incorporates fully redundant power propulsion and communication systems, and an integrated navigation sensor system that features colour and light cameras, an infrared pan/tilt camera and an x-band marine radar.
C-Worker can be fitted with interchangeable payload frames, allowing the vehicle to integrate a variety of payloads, including USBL, ADCP, CTD, Multibeam Sonars or even custom payloads.
More: C-Worker Unmanned Surface Vehicle
C-SWEEP USV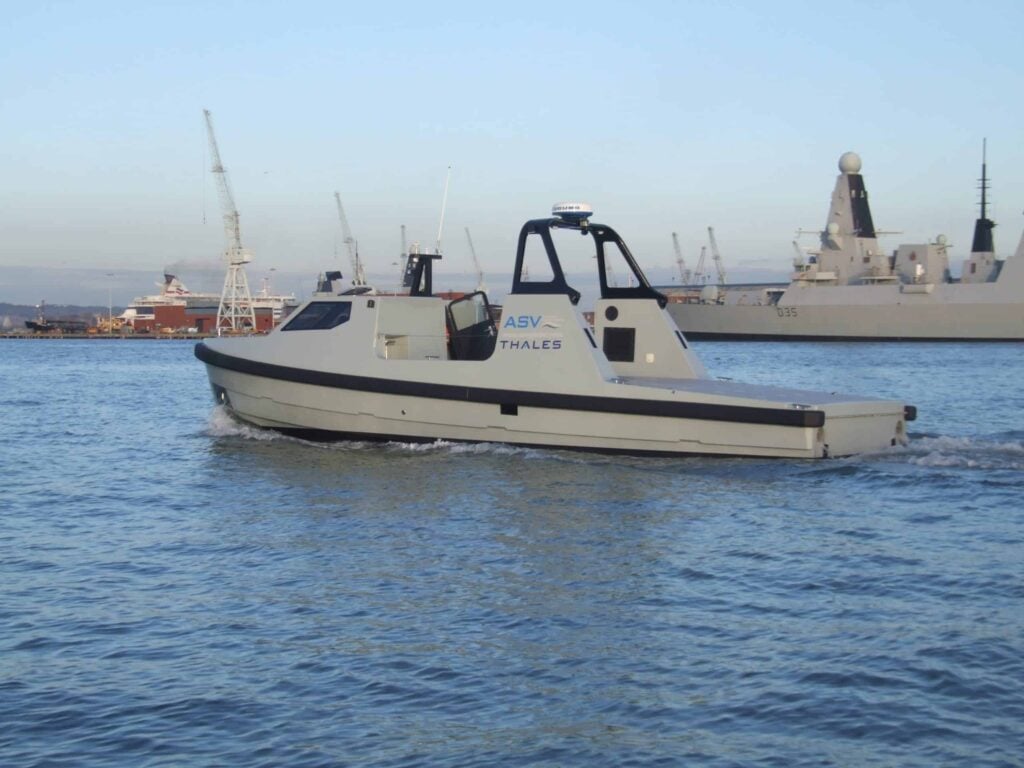 C-Sweep is a rugged, modular Unmanned Surface Vehicle capable of undertaking long-endurance minesweeping missions. It features a robust construction with either aluminium or composite hull, and is powered by twin diesel engines.
C-Sweep is capable of deploying secondary Autonomous Underwater Vehicles (AUVs) or Remote Operated Vehicles (ROVs), and can be fitted with a range of sensors.
More: C-Sweep Unmanned Surface Vehicle
C-TARGET Naval Target Drones
C-Target high-speed realistic target drones provide a way for naval personnel to train for scenarios involving Fast Inshore Attack Craft (FIAC), and are designed for gunnery training, weapons testing and ship command/control evaluation.
All C-Target drones utilise ASV's proprietary control architecture and can be deployed individually or as part of a swarm.
C-Target 3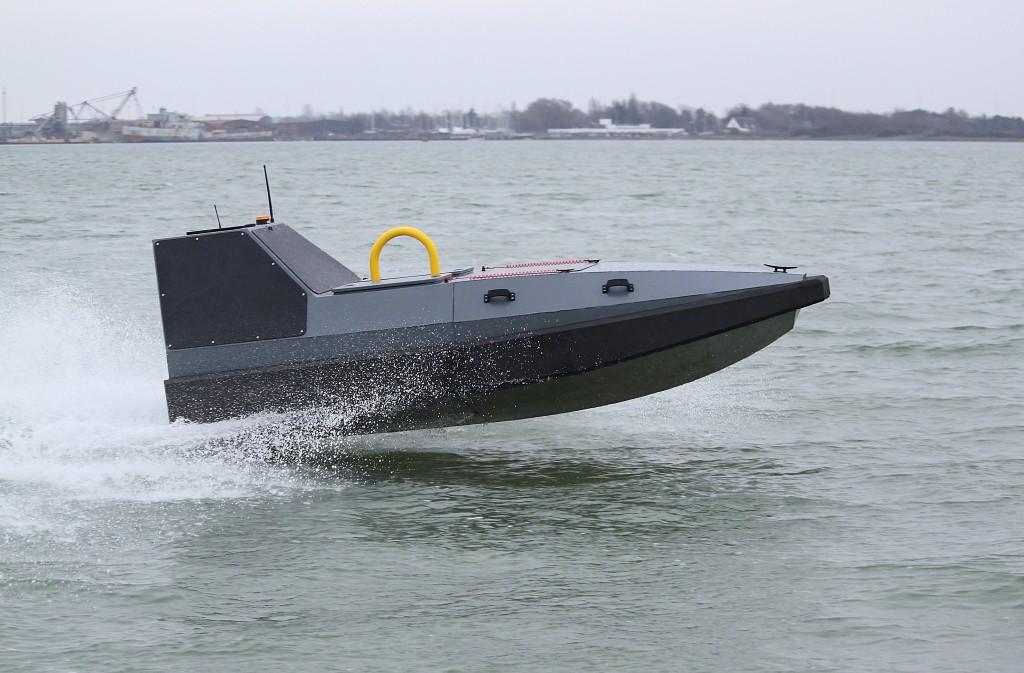 The C-Target 3 is a lightweight and fast-moving target drone. With a rugged aluminium construction, the hull features an innovative 2-part design that allows the boat to separate into two pieces for ease of transport and storage.
A lift hoop allows for easy deployment and recovery, and the outboard engine and electronics enclosure can be protected with ballistic panels.
More: C-Target 3 Naval Target Drone
C-Target 6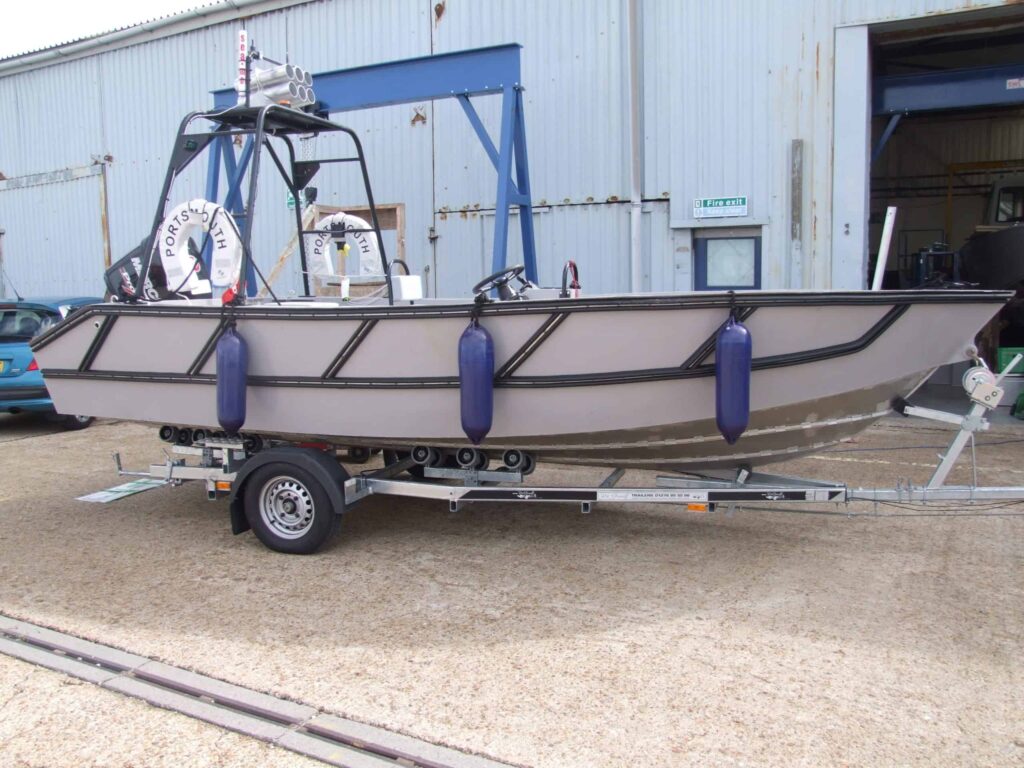 The C-Target 6 is a fast, powerful target drone that can be used either as a direct target or to tow inflatable targets.
With a rugged aluminium hull, the C-Target 6 is capable of operating in conditions up to Sea State 4, allowing for training to take place in harsher weather.
The C-Target 6 can be customised to resemble specific craft, and can also be configured for manned use (with the addition of an optional control panel) or as a low-cost Unmanned Surface Vehicle (with the addition of extra control functionality and camera systems).
More: C-Target 6 Naval Target Drone
C-Target 9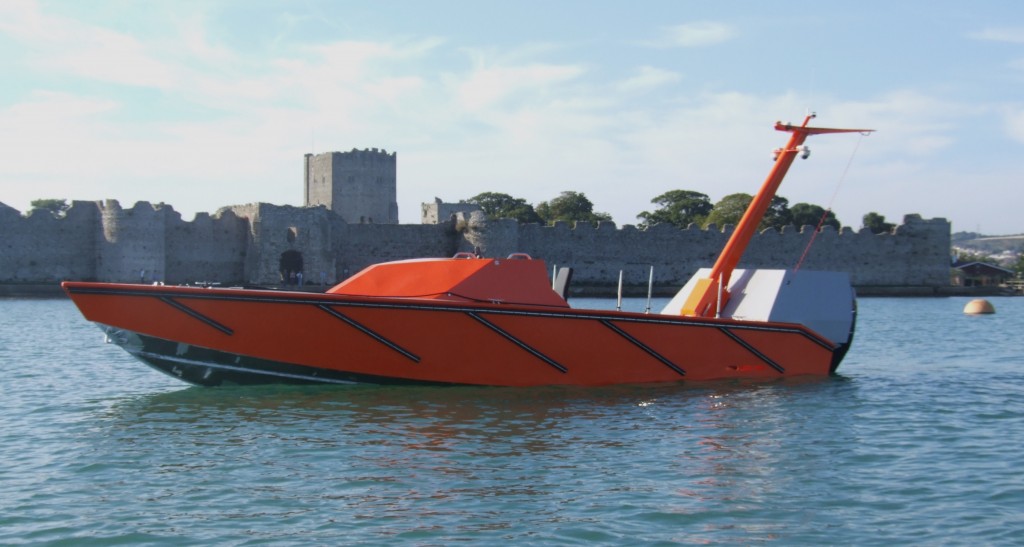 The C-Target 9 is a highly versatile target craft that can be operated remotely via a radio link, or manually with a console. It can be equipped with a broad range of optional capabilities, including radar, thermal sensors and visual systems.
More: C-Target 9 Naval Target Drone
C-Target 13

The C-Target 13 is a fast, highly realistic target drone. Propelled by twin 350hp engines and capable of a top speed of greater than 45 knots, it is the largest craft in the C-Target range.
As with the other craft in the range, it features a rugged aluminium hull, manual or remote operation, and a range of optional radar, thermal and visual enhancements.
More: C-Target 13 Naval Target Drone
INFLATABLE TOWED TARGETs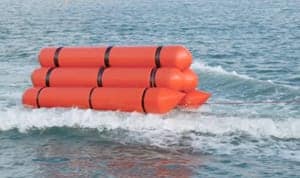 ASV's range of inflatable towed targets offers greater stability and functionality than traditional standard cylindrical targets.
Constructed from PVC or Hypalon, the targets feature multiple repairable and replaceable chambers to allow for greater visibility and survivability.
All targets can be fitted with radar, thermal sensors, missed distance indicators and video camera systems.
More: Inflatable Towed Targets
C-CAT 4 MultiPurpose Work USV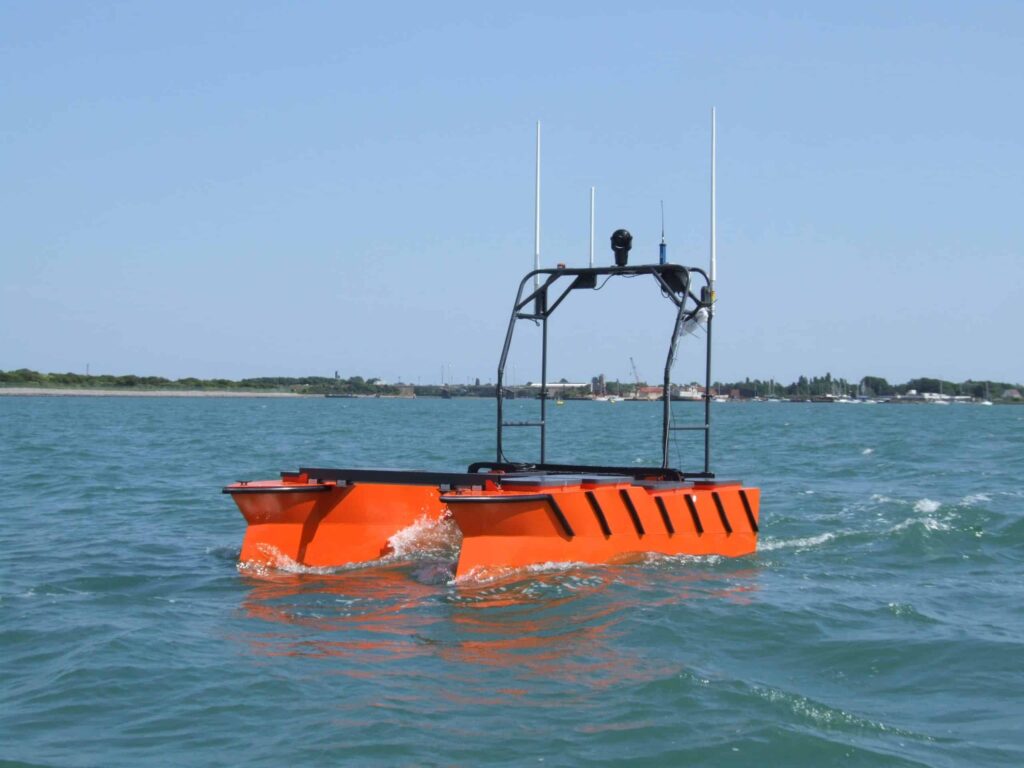 The C-Cat 4 is a multi-purpose work USV, ideal for applications in sampling, environmental monitoring and hydrography. Two electric motors can power the craft for up to 6 hours, and an optional diesel engine can be fitted for longer missions. A collapsible construction allows the vehicle to fold down and fit into a standard 20' container.
Operation can be direct via a hand-held joystick unit, or by pre-programmed waypoints which can be altered on-the-fly via an intuitive PC interface.
More: C-Cat 4 Multipurpose Work USV
C-STAT Mobile Buoy System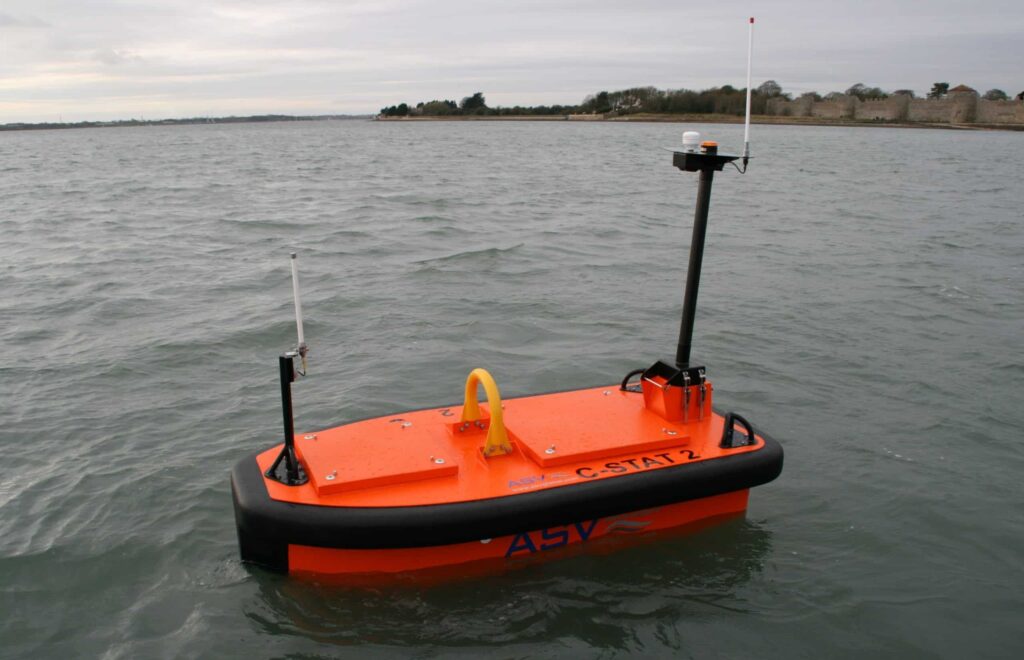 The C-Stat range of mobile buoy systems is a station keeping vessel for applications where anchoring maybe difficult or the cost or practicalities of operating a manned vessel for continuous periods of time are prohibitive.
An integrated GPS and autonomous controller system allows the C-Stat to maintain position, with sophisticated algorithms providing the user with the ability to set an allowable drift radius.
The buoy is powered by a hybrid diesel electric system, and three different sizes allow for deployments of 4, 15, or greater than 30 days.